Chiang Mai News
The news page is currently not being updated and only serves as a news archive. Sorry!
Since it opened in 2012, the 137 Pillars House – named after the number of wooden pillars gracing the hotel's centrepiece, an opulent teak house once owned by British wood merchants Borneo Company – has raised the bar in
Chiang Mai
hospitality, ...
CHIANG MAI
: — A 24-year-old man attempted to rob a bank in
Chiang Mai
after learning the necessary skills from Fast & Furious 5 and other action movies. Thanisorn Thepna, 24, was taken into custody within moments of walking into a Bangkok Bank branch ...
Police received complaints from locals that sparked an investigation in Chiang Mai. Police were investigating on Tuesday when they found a gruesome discovery at Huai Din Jee Temple. Police discovered a glass coffin containing an infant child underneath ...
Police are expanding the hunt for members of a gang of corpse snatchers following the discovery of 19 bags of human body parts at a crematorium in
Chiang Mai
. Pol Maj Gen Pracha Rattanaphan, deputy chief of Provincial Police Region 5, on Thursday led a ...
CHIANG MAI, 23 April 2015, (NNT) – Rajamangala University of Technology Lanna (RMUTL) and Pinkanakorn Development Agency (Public Organization) joined hands in conducting feasibility study on the construction of Chiang Mai-Lamphun-Lampang ...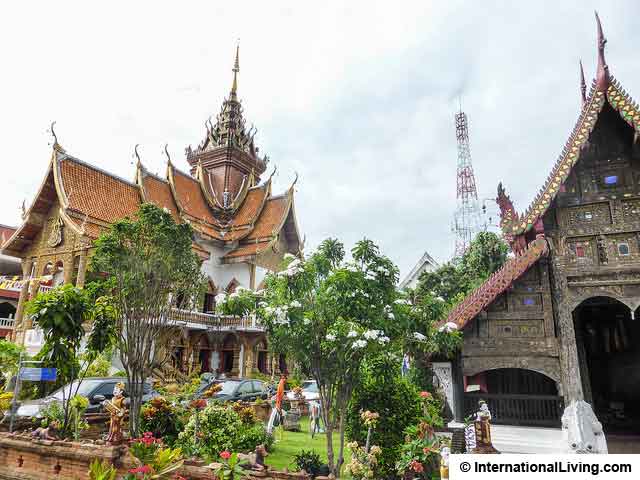 We live in a 968-square-foot condominium in the center of
Chiang Mai
, the principal city in northern Thailand. We have two balconies overlooking a large wooded farm -- an uncommon rural oasis in this growing city. Despite this, we're close to
...
CHIANG MAI: — Police have launched an investigation after discovering an infant's corpse, covered in gold leaf and inside a glass coffin, under a Brahma shrine in Chiang Mai province. Police dug up the coffin on Tuesday from under the shrine at Huai ...
Thanarak Suwanprapit, deputy dean of
Chiang Mai
University, said the incident took place between 17 – 19 April, when seniors told the university administration they were organizing a community service trip to paint schools and build a small dam in Nan ...
Few things are more exciting than a swanky new hotel in Thailand, but one thing that definitely is is a swanky new all-suite hotel in Thailand. Thai service + Thai food + lots of room to enjoy it = bliss. The Akyra Manor
Chiang Mai
(the latest to join
...
Thai authorities have arrested Para Chusri in connection with the murder of a 33-year old woman in
Chiang Mai
. The 52-year old lives in the Chon Buri's Bang Lamung district and is said to have been in a drug-fueled rage when the murder took place.